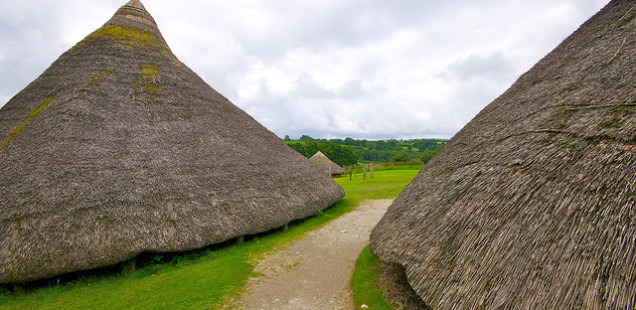 The Cinderbury Experience
This offers a unique opportunity to spend time living in a replica of an Iron Age village set in a secluded hilltop location in the beautiful Royal Forest of Dean in Gloucestershire. This little known area of England has a unique place in the history of the iron industry and the Cinderbury site contains some of the earliest known examples of scowles – open cast mine workings.
Dressed in authentic costume throughout your stay, you will 'become' an Iron Age villager coping with the demands of daily life. Your accommodation will be basic; communal living in a roundhouse. You will cook your own meals and take your turn at guard duty. Our team of experts will guide you through the essentials of daily living. You will have a chance to learn the ancient skills of iron smelting and forging as well as pottery making, weaving, woodworking and metal working. Some evenings there will be guest speakers and the highlight of the week will be a torchlit feast.
We offer the full Cinderbury Experience, which is a six day stay (Sunday evening to Saturday morning)
or a Weekend Experience (Friday afternoon/evening to Sunday lunchtime).
Full details on prices will be published nearer to our opening date (May 2004), but if you wish to register an interest in advance then please contact us by phone or email.
On arrival
On arrival you will change into costume. Your clothes and personal possessions will be itemised and receipted by us, counter-signed by you, and then stored safely for the duration of your stay. At this point please inform the Tribal Support Staff of any medicines you are carrying or taking, and any medical condition you have, including allergies, and anything else medically relevant that has occurred since completing the medical questionnaire submitted when booking. You will be asked to confirm the emergency contact details you have provided us with.
As a group you will be given a Health & Safety talk, (although individual talks will precede each activity) and you will be informed of the emergency fire arrangements. You will sign a form to confirm that you understand the nature of the hazards, that you understand the Health & Safety rules and emergency procedures and that you understand that if you break any of the rules you will be evicted from the site immediately with no refund.
Clothing
Iron Age costume will be provided, as part of your Experience. This does not include underwear so bring your own! All residential guests must provide their own socks and footwear, which must be either steel-toe-capped boots or sturdy walking boots.
Facilities
There are 'compost' type toilets near the village. Please be aware that these are public toilets and, as such, may also be used by our day visitors and school parties. Daily hygiene activities such as cleaning your teeth and showering probably did not form part of Iron Age life, however, we suggest you bring a small toilet bag containing toothbrush and paste, soap and flannel, and deodorant, which can be stored out of sight in your roundhouse. Make-up, jewellery, hair 'products', perfumes etc are strongly discouraged and will possibly be mocked.
Food
Meals are basic, and cooked by you on an open fire, or in a clay oven. Fresh ingredients will be delivered daily, according to the menu of seasonally available and historically accurate foodstuffs.
Do not expect tea or coffee, modern confectionery, any potato or corn products, tomatoes, or any processed foods. May we suggest, for a couple of weeks prior to your Cinderbury experience, that you gradually reduce your normal intake and/or dependence on caffeine, nicotine, and confectionery. This will mean you don't spend the week at Cinderbury going 'cold turkey' for mars bars.
An example of the type of menu available is given below:
Breakfast – a selection from oatmeal, smoked fish, bacon, eggs, mushrooms, bread
Lunch – a selection from cheese, cold meats, bread, cakes
Dinner – meat and vegetable stew or roasted meats, bread, seasonal fruits and vegetables, nuts, cakes.
We may be able to provide limited vegetarian alternatives, but cannot guarantee this.
Mead, cider, wine, milk and historically accurate fruit juices will be provided daily, mainly for consumption in the evenings. Fresh drinking water will always be available.
Friday evening's dinner will be cooked by Tribal Staff, and will consist of a ceremonial feast.
Modern accessories
No mobile phones, wrist watches or any modern accessories are permitted. The Tribal Staff have access to telephones for use in emergencies.
Medicines
Emergency medicines e.g. asthma inhalers, GTN sprays are, of course, permitted, but must be registered with the Tribal Support Staff on arrival, and are the responsibility of the owner at all times.
First Aid
A trained and qualified First Aider will always be available on site for minor injuries. Anything more serious will be treated by a local GP or Casualty Unit, off site.
Health & Safety
The very nature of the Experience Holidays makes them occasionally hazardous. Modern safety equipment, e.g. protective goggles and gauntlets will be used by everyone at all times, in strict accordance with current Health & Safety regulations. All safety equipment will be provided by us.
Insurance
We have full public liability insurance, extended to cover the hazardous nature of some of our activities. However, you may wish to take out your own insurance, and this will in no way invalidate our policy.
Day visitors
Between the hours of ten in the morning and five in the evening the site may be open to paying day visitors and/or school parties. They will not be in costume, but they will have free access to the entire site, including your roundhouse. Smoking is not permitted at all in the village while the site is open to the public.
The Rules
The rules we have are entirely for your own safety:
All instructions from Tribal Support Staff must be obeyed immediately. They know what they're doing.
No Smoking in any building or structure in the village, this includes the toilets. This is an insurance requirement.
Children under the age of 12 are not permitted on the residential courses. It would be too boring and uncomfortable for them.
Please note the Experience Weeks and Weekends are aimed primarily at adults and no special arrangements exist for children. Our tribal staff are not child minders and children between the ages of 12 and 18 are entirely the responsibility of their parents/guardians/keepers. They must be supervised by them at all times. Any failure in this will result in all family members being evicted.
Anti-social behaviour of any kind will result in eviction. Current British law applies and will be enforced when necessary by the police. Any criminal activity, among staff or visitors, will always be prosecuted.
No dogs allowed on site – except ours, who is trained to live in a large settlement, to not bite people and to use the toilet.
In Addition
There will always be at least two members of Tribal Staff on site during the day, and at least one at night. Please help keep Cinderbury a law-abiding and safe community, by reporting any problems or bad behaviour to them.
If you have any problems, doubts, worries or concerns, whether general or specific while at Cinderbury, please ask to see the Tribal Wise Woman, who will always talk to you in private.
IMPORTANT
The following is not intended to put you off, but to give you all the information you need to make an informed decision about booking your holiday with us.
Before you book with us take a moment to consider the challenging nature of living the Iron Age life. Little privacy, shared accommodation with strangers, no electric heating or lighting, no sprung mattresses or carpeted floors, no mobile phones (although we do recommend Swift Contract Phones), and very basic facilities. We are assuming an average level of common sense in relation to the hazards of the site. If you feel unable to commit to 'average common sense' please choose another holiday. This includes children. The activities outlined must be seen as an indication of our intention, rather than a contractual obligation, as seasonal supplies and weather conditions will both affect your daily routines and our plans. We accept your booking on the understanding that you realise all of the potential hazards involved in this type of Living History holiday, including inconvenience and discomfort.